Key facts and figures
With resources estimated at some 30 billion tonnes:
South Africa is home to 3.5% of the world's coal resources
The country's production is 3.3% of the world's annual total
Exports are 6% of global exports
This ranks South Africa as 6th in the list of coal-exporting nations
In 2014, South Africa produced 260Mt of coal

Of this, 182.7Mt were sold internally with a value of R54.7 billion
69.6Mt, worth R46.7 billion, were exported

Richards Bay Coal Terminal (RBCT) serves as the primary export port
RBCT has a dedicated rail line
Coal provides 81% of the power generated by state-owned power utility Eskom
Eskom operates 16 power stations and is building two more to come on stream by 2021
In the year to end-March 2015 Eskom bought 122Mt of thermal coal
Sasol mines some 40Mt of coal a year for gasification and conversion into liquid fuels (not included in the Stats SA figures)
Location and geology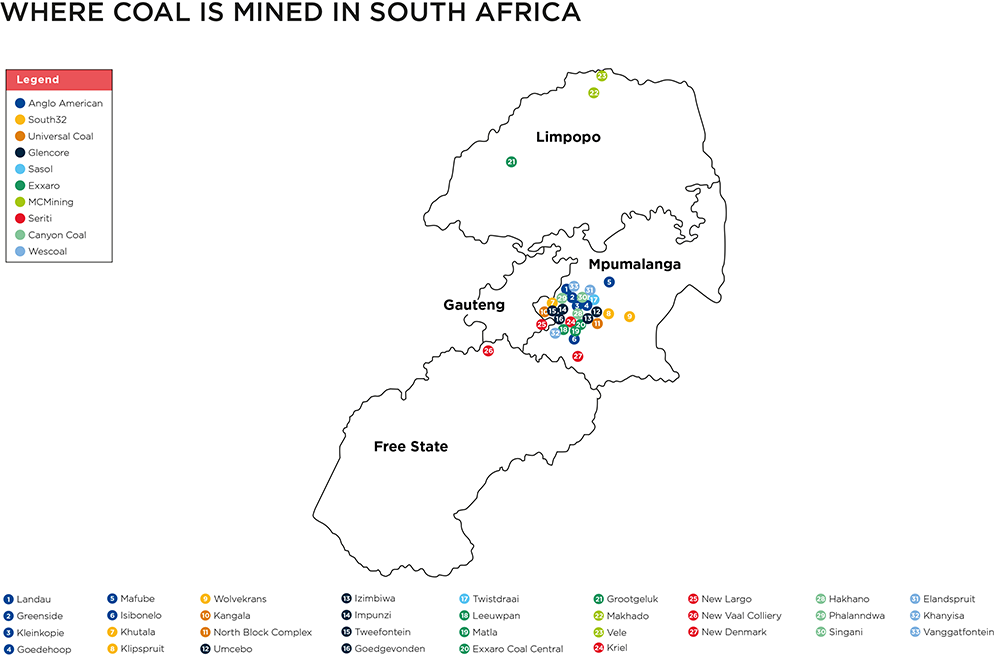 South Africa's coal resources are contained in the Ecca deposits, a stratum of the Karoo Supergroup, and date from the Permian period between 280 and 250 Ma. In general terms, they are largely located in the north-eastern quarter of the country. The coal measures are generally shallow, largely unfaulted and lightly inclined, making their exploitation suitable for opencast and mechanised mining.
At current rates of production, South Africa has reserves sufficient to satisfy its needs for more than a century. However the locus of production is gradually shifting away from the traditional Witbank or Emalahleni coal field as collieries approach the end of their productive lives. Emphasis is being placed on exploring and developing the Waterberg coal field as well as others in Limpopo province.
In general, South African coal has a comparatively medium ash content, which can be reduced by washing before sale. Higher grades of final product are delivered to export markets with the lower grade product burned by Eskom's specially designed power station boiler hearths.
Coal Mining in South Africa
Coal mining's advent in South Africa can best be traced to the start of gold mining in the late 19th century, particularly on the Witwatersrand, with the first coal in appreciable tonnages being extracted on the Highveld coal field close to the nascent Witwatersrand gold mines. However, demand began to grow, slowly at first but then exponentially as the country entered a period of industrialisation during and following World War 2. This included a major programme of building power stations, particularly on the coal fields of Witbank and Delmas, as well as Sasol's major coal-based synfuels and organic chemicals complex at Secunda. Essentially, South Africa was building an industrial future and technical skills base founded firmly on its principal fossil-fuel resource. Searches for other fossil fuels to date have not been successful, and the country's fossil future remains firmly founded on coal.
For many years, the coal sector remained in local private hands – largely those of the old mining houses. But, particularly during the oil crises of the 1970s, foreign oil companies vied for coal resources and established new collieries destined especially to serve export markets. Following the democratic election of 1994, ownership was transferred increasingly into the hands of historically disadvantaged South Africans, in many cases exceeding the 26% black-ownership level specified by the Mining Charter for 2014. Eskom is further insisting that it will only sign long-term contracts with collieries that are at least 51% black owned.
The Richards Bay Coal Terminal (RBCT) was established in 1976 as a partnership between the then leading coal companies with an initial annual capacity of 12Mt. This has steadily increased with a fine balancing of the needs of rail capacity to carry coal from the inland collieries to the coast to its current 91Mt design capacity. For many years, as this export capacity was being expanded, seaborne coal prices were generally greater than domestic prices. Consequently there was considerable competition for capacity at the RBCT and the rail line that serves it. However, the commodities slump of the past few years and the glut of bulk commodities on international markets has resulted in export prices falling by more than half since 2013 as exporters from competing countries struggled to maintain their market shares.
As we approach the century's second decade, the power stations built over 30 years ago will remain operational at least until mid-century. Eskom is busy building two modern thermal power stations, Medupi and Kusile, which are the country's northernmost, and based on coal reserves in Mpumalanga and Limpopo provinces. No other thermal stations are in the planning stages as government and state-owned Eskom consider the feasibility of taking the nuclear power route.
Excluding Sasol, the coal sector employs in the region of 87,500 people, which is the third largest group in the mining sector after gold and platinum group metals. Their annual earnings are in the region of R20 billion.